WordPress Dropshipping: A Beginners Guide to Creating a Passive Income
— May 15, 2019
•

7

Minutes Read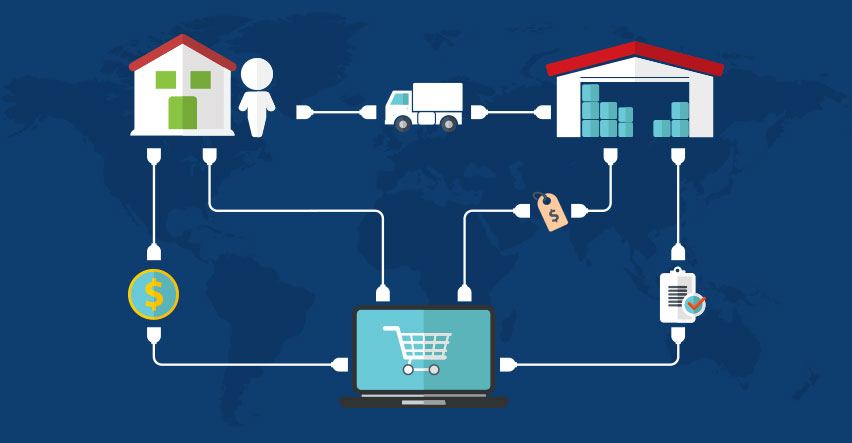 Since you've decided to dive into the world of WordPress dropshipping, you need to know the ins and outs of the trade. This guide will help you get to grips with dropshipping on WordPress, how it works, where to start, and how to turn it into a growing online business.
But before we dive into the nitty-gritty, let's take a look at what dropshipping really is, and why you should even start a business based on this model.
What Is Dropshipping?
The internet has bestowed us with too many ways to earn a quick buck online to keep count.
Dropshipping, as you may have guessed, is one of those highly sought after business models you can start a profitable business on without substantial investment.
The concept can be traced as far back as the 1950s when Mail Orders and JIT (Just-In-Time) were the pioneers of this business model. With the rise of the internet, though, the concept evolved into what we now know as dropshipping!
So what exactly is dropshipping?
Simply put, it's a business model in which the seller does not own or keep the inventory of the product they are selling.
So if you owned a dropshipping WordPress site (and that's all you need to operate) and your customer placed an order, the manufacturer of the ordered item will be notified and they'll ship the product to the customer.
The biggest advantage is that you don't need a warehouse like you would in a brick and mortar store. You simply list a product on your online store, find a buyer, and the product will be shipped to them without any more intervention on your part.
Wait… except for the intervention of profits in your bank account.
Sounds great. How easy is it to start a dropshipping business?
Pretty easy, if I'm being half honest.
Far too many articles on dropshipping will have you believe that starting a dropshipping business is the easiest thing on the planet. They're not lying, but it's partially true.
There are a lot of facets to launching your dropshipping store and getting each right is key to succeeding in this space.
Also, it's a saturated market. You'll have to be really, really competitive to start earning good. We wish we were in 2009, but it's been a decade since. It's 2019, and dropshipping businesses have seen their rise and decline through the years.
But it's not to say that you can't turn it into a profitable business. You can, but it'll take a lot of efforts. Not a lot of financial investment maybe, but a lot of mental and physical investment.
So without further ado, let's understand how dropshipping works on WordPress.
How Dropshipping Works on WordPress – An Overview
The title probably gave it away, but Dropshipping and WordPress go hand in hand.
WordPress gives you the freedom you need to make your business stand out, thanks to its flexibility and a plethora of options for customization.
And dropshipping turns that ease and flexibility into a full-fledged online store!
How Dropshipping Works
Turning a dropshipping business into your bread and butter sounds great, but it is crucial to understand how the process really works.
We've already discussed what dropshipping is, but here's a rundown of the entire process:
For starters, you need to create a WordPress website and install WooCommerce on it. Or, you can directly launch a WooCommerce optimized store on Cloudways.
While you're creating your store, you also need to create a marketing strategy to let your target audience know about your online store or the products you're selling.
When a potential customer sees an ad, visits your store, and places an order, your supplier will be notified via email (since the system is automated), while your customer will receive the details of the shipment.
The supplier will then ship the product to your customer's given address.
Once the product is delivered, your order is completed.
Simple isn't it? And all that sales without worry about product storage or warehouse. You only create a virtual store and list it with products, while stocking and delivering the products is the supplier's responsibility.
Why You Should Use Dropshipping on WordPress
We've established that dropshipping and WordPress is a great combination. However, here are some more compelling reasons why dropshipping on WordPress is the way to go:
WordPress is Free & Open Sourced
Not only is WordPress free, but it's also one of the most well known, open-source content management system. Launch a WordPress site on a reliable host like Cloudways, and you're set for a successful online business.
WordPress is Easy to Use
There was a time when you had to be an expert in coding or software to create websites. With WordPress, you can create a website without any knowledge of coding or without knowing your way through Dreamweaver.
Even if you run into a problem, there's a great deal of help material present online to make your life easy. The WordPress community will guide you through your problems, and tons of tutorials are also there to help you on your solo journey.
Then there's a plethora of plugins and extensions that not only add functionality to your store, but also make it easy to perform certain tasks.
One of those plugins is WooCommerce that turns a simple WordPress site into a fully functional online store.
WordPress is All About Customization
WordPress is not just user friendly, but it's also known for its serious customization capabilities.
There are themes, plugins, and extensions by the thousands to make sure your WordPress dropshipping site looks just the way you want. With imagination and creativity, you can create a unique space for online shoppers.
There's a Huge Community around WordPress
Since WordPress is an open-source CMS, it's backed by a huge community that's everready to help you out.
Dedicated people from the community contribute regularly to overhaul the CMS and its features. But most importantly, professionals from around the world are available to help you in your problems.
All in all, WordPress is the ultimate choice of millions for the many reasons listed above, and plenty more
How to Start Your Dropshipping Business on WordPress
Now that we've covered all the basics, let's get into the actual process of starting your dropshipping journey on WordPress.
1. Pick a Niche
While the world's at your feet when it comes to selling products online, it's important to go through plenty of research before picking your niche.
Of course, you don't want to start a dropshipping business which has zero demand. Hence, your due research will help you determine which products out of the millions are more profitable and in demand.
Here's a tip: Select a niche that you're interested in, and your job will seem easy and fun. If, for example, you like tech and gadgets like me, go for a dropshipping store for gadgets.
However, whatever niche you choose, remember that you're not limited to it and you can either expand or change your direction later on.
2. Pick a Domain Name and Hosting Provider
Usually, businesses choose their business's name as their domain name, and so should you. If your dropshipping business name is "MyDropStore", for example, try to get the www.mydropstore.com domain name.
After you've picked a name, it's time to pick your hosting provider. This is one of the crucial steps that will determine how your store performs and how successful it will be.
You have plenty of options to choose from when it comes to hosting, but not all options are the best. Some have subpar performance issues, some lack in security, and some will result in constant downtime for your site.
Hence, you should always go for a hosting solution that is robust in security, performance and gives you complete peace of mind so you can focus on your business.
If you opt for managed hosting services like Cloudways, you get an easy, intuitive platform to launch your site coupled with 24×7 support to help you through tasks too complex for you.
In fact, Cloudways ranked top in ReviewSignal's benchmarking test for 2019 in three pricing tiers. ReviewSignal is a trusted name in the hosting industry, and they ran exhaustive tests for several months to determine the top hosting services, and Cloudways came out top in all the important tests.
Also Read: How To Choose The Perfect Domain Name and Hosting for Your Blog
3. Launch WordPress and Your Store
Unless you have a very slow internet connection, installing WordPress should not take more than 5 minutes. Cloudways makes the process easier, though. You just select WordPress with WooCommerce, select the server details, and click on launch.
Within a few minutes and your WooCommerce optimized store will be ready to work on!
4. Brand Your Store
Once your WooCommerce store is launched, it's time to brand it, or so to say, time to customize it to your liking!
You can use a free or a paid theme to turn your WordPress WooCommerce site into an attractive looking online shop. However, apart from what the themes have to offer, you can add unique touches to your site as well to make it stand out from the competition.
Once you're satisfied with how your dropshipping store looks, you can move to the next important step; adding products to your store.
Also Read: The 17 best dropshipping companies, suppliers, databases, and tools
5. Add Products to Your Site
This is the most important step because, of course, you can't run a dropshipping store without adding products to it.
Since you've already done your research and selected your niche, it's time to look for products to add to your store and basically connect the sellers and buyers.
You can use services like AliExpress, Alibaba, and Amazon where their hundreds to thousands of sellers are ready to ship products as long as you can keep bringing them, customers.
Also Read: How to Add Variable Products on Your WooCommerce Store
Adding products to your WooCommerce site is easy but time consuming. While you can manually add each and every item yourself, it's better to use WooCommerce plugin to import products.
I'll show you how in 4 easy-to-follow steps:
A – Create an account on WooDropship
B – Select AliExpress or where you want to get products from
C – Click on Import List (under Products option)
D – Click Push to Store
6. Promote Your Store
No matter how great your online store, if people don't know about it, you're probably not going to make a lot of sales. And this is where your marketing strategy comes in place.
Whether it is Facebook or Instagram, make sure your marketing efforts are in full swing so that a maximum number of people are aware of your online store's existence.
You can even use the power of Search Engine Optimization to bring more organic traffic to your store. If you have the budget, run Google Adwords campaigns or run ads on Facebook. There are plenty of mediums you can reach your audience with, so make sure you test and experiment to see which works the best for you!
Also Read How to set up a retargeting campaign on Facebook with the best pixel plugins.
7. Provide Good Customer Support
Providing good customer support is one of the most important aspects of running a successful dropshipping business.
It's often said that people buy the experience, not the product. And providing excellent customer services is one of the best parts of the experience. It helps people look past small issues and quality woes, making your brand seem superior overall.
If it's possible, make sure you include Free Shipping into the mix as well. Give regular discounts, offers, and price cuts that entice visitors to shop more than they plan to. Answer queries as soon as possible and provide timely solutions to the most common problems your customers face.
Dropshipping & WordPress – A Win Win
Dropshipping is one of the most lucrative business options in the ecommerce landscape. The best things about Dropshipping is that it requires far less effort and investment than it does to sell your own products. Also, most people start dropshipping to add to their source of income – a second source of income, if you must.
And now that you know the basics of how to start a dropshipping store, what's stopping you from starting one right now?
If you have any questions regarding the process or you have opinions you want to share, fire away in the comments section below and I'll get back to you!
Create Faster WordPress Websites!
Free eBook on WordPress Performance right in your inbox.
Create Faster WordPress Websites!
Free eBook on WordPress Performance right in your inbox.